FOr many men are fighting in First World WarThe fear of permanent disability was more terrifying than death. However, worse than the possibility of a life-altering disability is the horror of facial disfigurement. While men who lost a limb were treated as heroes, those who suffered facial injuries were often ostracized or insulted. Mothers hastened their children inside to avoid seeing these disfigured men; Women broke off clashes with distorted courtship.
Harold Gillis, a New Zealand-born surgeon who trained in Britain, has helped thousands of men literally take on the world again. his work in The unit created by At Queen's Hospital, Sidcup, she is overshadowed by the more familiar story of his cousin, Archibald McDonnell, who reconstructs the burnt faces of pilots at the "Guinea Pig Club" in World War II. However, it was Gillis, a very affectionate man and a skilled surgeon, who really changed the discipline of plastic surgery.
In her interesting book, Lindsey Fitzaris Not only does it tell the story of Gillis' accomplishments, it immerses us in the world of the men he helped, following them from the trenches massacre to the wards where they made a long and painful recovery.
Gillis was thirty-two years old when the war broke out. He joined the Red Cross and was sent to France in 1915, where he encountered men with horrific facial injuries from shells, shrapnel, and sniper bullets. Plastic surgery was in its infancy. A few enterprising doctors have attempted reconstructive operations, but mainly on the nose and ears, with varying results. Some operations made it possible for patients to eat and speak but left large gaps. Gillis realized that there was a need for a specialized center for facial surgery where patients received specialized treatment and surgeons could improve their skills.
Dedicated for the first time a ward at Cambridge Military Hospital in Aldershot, he recruited a multidisciplinary team of dentists, nurses and anesthesiologists with an artist to document their work. He soon secured his own position in Sidekop, in a Georgian mansion surrounded by wooden huts that opened as the Queen's Hospital in 1917.
The men arrived with their jaws, noses, and cheeks smashed, their tongues torn out and their eyeballs dislocated. Pilots were brought up in plane fires, sailors in explosions at sea, soldiers in tanks that caught fire with their faces terribly burned. Some had already had operations that left their features crooked, so Gillies had to reopen the wounds before the reconstruction could begin.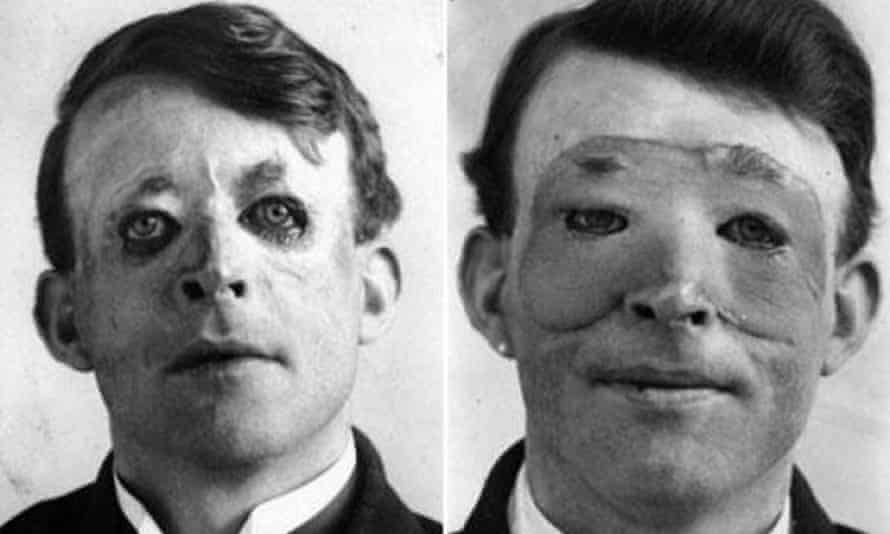 With no textbooks to follow, Gillies had to invent his own solutions, often sketching ideas on an envelope and then performing multiple operations involving skin, cartilage, and bone grafts. Said a nurse who worked alongside him: "He was proceeding to work on a man who had half his face literally worn to pieces and his skin hanging to pieces." Gillis took strips of skin from patients' chests and elsewhere, left them attached to narrow strips to maintain a blood supply, and then rolled them to cover facial wounds. In one notable operation, he sewed the strips into tubes – or "necks" – reducing the risk of infection. Using these techniques, Gillies recreated the nose, jaws, lips, and eyelids. A man underwent 40 operations to reconstruct his nose.
To maintain morale, the hospital held sports days and organized amateur plays. Patients were encouraged to walk the local streets as some seats were painted blue so that passersby were warned in advance that a disfigured man might be sitting there. After the war, Gillis established a private clinic where he performed groundbreaking operations including, in 1949, the first female-to-male gender change.
This is not a book for the faint of heart. The vivid, meticulously detailed accounts of horrific injuries and grueling operations are complemented by stunning photographs by war artist Henry Tonks, who depicted patients before and after reconstructions. Despite its horrific subject matter, Fitzaris presents a deeply touching and deeply entertaining story about a brilliant medical pioneer and the men who reformulated them.