Topics in this edition of the PHR Mailbag include Mathew Dumba and Minnesota's cap crunch, the Rangers' center situation beyond this season, Seattle's underwhelming year, and much more.  If your question doesn't appear here, check back for it in last weekend's mailbag.
MoneyBallJustWorks: What is the next step for the Sens. The team has stockpiled a good core of youth (especially on the blue line) but what do they have to do this offseason to take the next step?
The young nucleus for the Senators is pretty strong between Brady Tkachuk, Joshua Norris, Tim Stutzle, and Drake Batherson up front plus Thomas Chabot and Jake Sanderson on the back end.  Now, they need to upgrade the supporting cast, so to speak.
Defensively, they need a top-four, all situations type of player.  Players like Nick Holden, Nikita Zaitsev, and even trade deadline acquisition Travis Hamonic are serviceable veterans that can raise the floor of their defense corps.  While that's useful, now GM Pierre Dorion needs to raise the ceiling for this group to take a step forward.  Chabot and Sanderson plus Artem Zub and Erik Brannstrom have some room to grow but with the right veterans, they'll get there faster.
Up front, the top line is pretty much set with Tkachuk, Norris, and Batherson.  But Stutzle's linemates aren't as consistent or anywhere near as good.  Connor Brown is a good veteran but he's not a big scorer while Alex Formenton's speed is high-end but his scoring isn't.  Upgrading one (or if you want to aim big, both) of those spots would really deepen the offense.
On top of that, a goalie upgrade would help them take a step forward.  Anton Forsberg isn't a true starter, Matt Murray has underachieved, and Filip Gustavsson may not be ready for a full-time NHL roster spot (although waiver eligibility will probably keep him up).
That's a huge wish list but adding any of those elements will help them get back to at least realistically battling for a playoff spot next season.  That would be a good next step for Ottawa who isn't really in a position to go from a bottom-feeder to a contender overnight unless Dorion manages to have the offseason of a lifetime and hit on all of these areas.
DarkSide830: With his name in past rumors and MIN needing to make a move, I wonder, can PHI make a move for Dumba? They need to get better on the back end and he could be available for 80 cents on the dollar with MIN's crunch. I presume they need to move out a JVR then. Can they move enough of JVR's cap without having to give someone a pick with it so they can reasonably fit Dumba in?
While I agree that Minnesota has a cap crunch, I disagree that they will make someone like Dumba available for 80 cents on the dollar.  Yes, everyone knows they need to clear money but whoever goes – Dumba or Kevin Fiala (who'd fit one of those holes in Ottawa we just went over) – there will be enough demand that they'll be able to get full value.  Let's say it's Dumba.  The UFA market for impact defensemen isn't the deepest and Dumba's cap hit is lower than what players like Kris Letang and John Klingberg are going to get.  That bodes well for maximizing trade value, even with their hand being forced.
As for James van Riemsdyk, they're not going to get much cap relief in a trade unless they send a pick with him.  If I was an acquiring team, I'm pointing at the Patrick Marleau to Carolina trade as a benchmark; that move cost Toronto a first-rounder.  Is it possible that they flip him for another underachieving veteran that makes a little less?  Sure.  That is definitely a plausible option.  But will they save enough to fit Dumba's $6MM in?  Nope.  Frankly, I'm not sure they'd save more on the cap next season than if they bought him out ($4.33MM cap charge) with a trade.
And if I'm Philadelphia GM Chuck Fletcher, notwithstanding the van Riemsdyk thing, do I really want to part with the first-round pick and/or a top young asset that it will probably take to get into the bidding to acquire Dumba?  That's not a smart strategy for a non-playoff team, even if it's a core he thinks is better than it has shown.  Once you do factor in the likely cost to offload van Riemsdyk's contract for cap relief on top of the acquisition cost, the price for Dumba is one they shouldn't be willing to pay.
Bill Blueshirt: The NYR need a 2C next year while being in a cap squeeze. Strome seems unaffordable. Do they a) sign Copp, b) go with Chytil and backfill at 3C, c) trade some of their many prospects for a C (and who would that be), or d) ???
I'm not convinced the bidding for Ryan Strome is going to be super high this summer.  Yes, he has put up impressive numbers the last couple of seasons but he was doing that with Artemi Panarin on the wing a good chunk of the time.  But his history before getting to New York was spotty at best and I'm confident there are general managers out there who will be hesitant to commit a big contract to him this summer.
I'm not saying there won't be a good market for him but I wouldn't be shocked if his AAV winds up being close to where Andrew Copp's lands.  If that's the case, I don't think Strome re-signing can easily be ruled out.
Do they need to free up some money?  Probably.  I wonder if they try to find a taker for Patrik Nemeth and take a cheaper player back to give them some wiggle room.  But if they go with some cheap end-of-roster options and make a small cap-clearing move or two (Alexandar Georgiev being another one), I think they can cobble enough together to make an intermediate type of offer that could be enough to keep one of Copp or Strome in the fold.  So, to answer your question, I'll pick either a or d.
FearTheWilson: In your opinion who are the most underrated players in the league?
This is always a hard question to answer as underrated can be interpreted in a few different contexts.  I could rhyme off some names that some of you may not be familiar with that are actually important players and that would qualify as underrated.  But I suspect you're looking for more prominent names so I'll go with those.
Quick, think of an impact center on the Blues.  No, not Ryan O'Reilly.  Not Brayden Schenn either who, for many, would be the second one that comes to mind with his contract.  Meanwhile, all Robert Thomas did this season was lead their centers in scoring while logging nearly 19 minutes a night.  He was an impact offensive player in junior and while it has taken a few years for him to truly become an impact player in the NHL, he's there, even if he doesn't immediately come to mind when St. Louis centers are being discussed.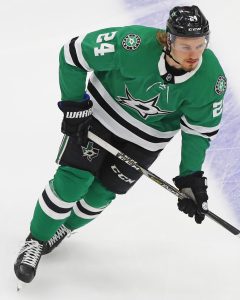 Roope Hintz is a player that many are familiar with.  If you were thinking to yourself that he's a good secondary scorer, it'd certainly be understandable.  When digging into this question, that's where I was leaning.  But he averaged over a point per game last year and followed that up with 37 goals and 35 assists this season, finishing tied for 20th in the league in goals.  That's not a good secondary scorer, that's a higher-end primary player who, by the way, spends a lot of time at center after coming up as a winger a few years ago.  He definitely fits the bill of being underrated.
As for a defenseman, the first one that came to mind was Calgary's Rasmus Andersson.  He showed flashes of offensive upside over his first few NHL seasons but found another gear this season as he very quickly reached the 50-point mark.  But he isn't just a slick-skating, offensive defender.  He takes a regular turn on the penalty kill and is trusted in all situations while leading the Flames in ice time.  Despite all of that, if I ran a poll of what type of blueliner he is, I think a 'good number four' would probably win out.  He's much more than that; Andersson is quietly pushing for lower-end number one territory.
I'll add a goalie to the list as well in Islanders netminder Ilya Sorokin.  His delayed arrival in North America has resulted in limited exposure; he has played in just 74 career NHL games.  On top of that, New York had a season to forget as they were out of contention early.  But Sorokin very quietly was second in the league in save percentage this season (.925) and fourth in goals against average (2.40), impressive numbers for a non-playoff team.  If he puts up similar numbers next season and the Isles rebound in the standings, Sorokin will be in the discussion for the Vezina Trophy.  But when it comes to thinking of top NHL goaltenders, his name often doesn't come up.
trak2k: If the Kraken do not "do anything" in free agency and or struggle at the beginning of next season do they fire the GM?
I don't think there's any chance of a GM change in Seattle within the next year.  When the Kraken chose their roster in expansion, it became more than evident that they were planning a longer-scale build.  In other words, they were going to have the development curve of a traditional expansion team.  That results in losing seasons early on.
Don't get me wrong, I don't think Ron Francis did a particularly good job in assembling his roster in expansion and even their coaching choice was underwhelming.  But he got the green light to build this way.  To turn around and go back on that this early doesn't seem like a likely outcome.
If I was Francis, I wouldn't be overly active in free agency this summer.  With so many teams in cap trouble, they're ripe for the picking in terms of adding extra picks and prospects in exchange for taking on an unwanted contract or two, improving their future, and probably helping the current team in the process.  Basically, do what they didn't do a year ago.
aka.nda: I'd like to hear more on the Kraken.. seems they have a buffet of conundrums: 1. Goaltending, 2. Jaden Schwartz, 3. Victor Rask (why'd they play him so much?), 4. Massive amount of '22 picks, 5. Fleurys, 6. RFAs, 7. Captain, 8. Cap space… Speculate vigorously!
With so many questions, I'm going to have to go with pretty quick answers here.
1) Stay with Philipp Grubauer and Chris Driedger – both have shown enough in the past to think a rebound is likely.  And even if Francis thinks otherwise, neither has good trade value at the moment.
2) Not much they can do with Schwartz.  His injury history hurts his value and with four years left on his contract, he's not exactly tradeable right now.  Plus he has a no-move clause.  He needs to play his way into some trade value.
3) Francis had Rask in Carolina and gave him the contract that will end in July.  He had a lot of faith in the center so it's understandable he'd have been willing to give him a long leash to see if there's anything left.  I wouldn't be shocked if he was re-signed for around the league minimum next season.
4) This team doesn't have much of a prospect base yet.  They could use all 12 picks and it wouldn't be surprising; if they did, they'd still have a pretty thin pool.  Maybe they flip one or two of those for picks next year to balance things out but if they come out of the draft with the most additions to their system, that's exactly what they need.
5) Haydn Fleury – Hard to see him qualified at $1.55MM with his limited role but it wouldn't surprise me to Seattle try to get him at a little less on a one-year deal.  He's another player Francis had in Carolina and believes in.
Cale Fleury – Seattle will have their own AHL team next season in Coachella Valley and they need a lot of bodies to fill out their roster after sharing a team with Carolina this year.  Fleury is a safe bet to clear waivers to he's the type of player they'll need to fill out the roster for the Firebirds.  He should stay.
6) Most get tendered other than maybe the first Fleury.  If they're worried about Ryan Donato's arbitration award if it went to a hearing, he could be a non-tender option as well but they probably will try to keep him even if he isn't qualified.  Some of their players on the fringes of the roster are options for the Firebirds next season.
7) If they name a captain, Yanni Gourde seems like the best option as a hard-working, respected, and impactful veteran.  I wouldn't be in a rush to name one though and if they want to go with only alternates next season, that would be perfectly fine.
8) I touched on this in the last question but rather than see them commit another Schwartz-like contract this summer, I'd like to see them take on shorter-term big deals and add other organizational assets.  They should have done that last summer but didn't.  That said, I think they'll get in the bidding for some of the big names to see if they can make a splash before pivoting towards some second-tier options.
SkidRowe: What do the Bruins do if Bergeron retires?
I think Boston signaled their intentions when they traded futures for Hampus Lindholm at the trade deadline and promptly signed him to an eight-year extension.  That's not a move made by a team that's thinking about transitioning to a rebuild whenever Patrice Bergeron decides to call it a career.
For me, Plan A is signing Nazem Kadri.  He's not the same type of player Bergeron is – few are – but he showed this year that he is capable of scoring at a high-end level and that he can find another gear with top wingers.  The Bruins have two top wingers in Brad Marchand (once he returns from surgery) and David Pastrnak and I think that trio could be a matchup nightmare for a lot of teams.  If not him, they're going to kick the tires on any top-six center that hits the open market and hope to land one of them.  Charlie Coyle did well enough as the middleman on the second line that they only look to make one move.
Of course, it's worth noting that Boston doesn't have anywhere near enough cap space to add an impact piece this summer and will need to shed some salary.  I'd look to the back end for that where they have nearly $32MM in commitments, per CapFriendly.  That's a bit much considering teams only dress six rearguards per game.  But the ones they're likely going to want to move (Derek Forbort or Mike Reilly would be my guess) aren't going to be enough to add an impact center back.  GM Don Sweeney has traded several higher draft picks in recent years so they don't have the farm system or surplus draft choices to deal from to try to take a run at Winnipeg's Mark Scheifele if the Jets opt to shake up their core.
I think that takes trading for a Bergeron replacement off the table.  As a result, with them clearly being in win-now mode, Sweeney needs to find a way to get a key center to sign off the open market while making a trade or two to free up the necessary cap space to make it happen.  At this point, don't even think about Plan B if Bergeron decides to retire – they just can't miss on a free agent replacement.
rpoabr: Should the Kings swing for the fences this offseason or is it too early? They have a ton of young assets, some cap space, and an appealing situation to incoming FAs. Should they make some major trades or be patient another year to see what develops with the young group?
I don't think Los Angeles is in their prime window yet (their core youngsters aren't in their primes just yet) but if the opportunity presents itself to land an impact free agent, they have to take it.  If they can add a core player to their roster without losing any future assets and use their cap space to their advantage, that can only help.  I wouldn't swing for the fences but augmenting their roster doesn't hurt.
Knowing that the Kings will have their young core getting more expensive quickly, there's a reasonable case to be made that going a year early might actually be beneficial as the deal will be easier to move (or expiring) before the potential cap crunch down the road.
That said, I draw the line at free agency.  It's one thing to add a 'free' asset but another to trade pieces away too early.  I don't think that would be the right move for them to make.  That's one of those things to do when it's time for that final piece or two.  They're not there yet.  Use this next year (or even two) to evaluate what they have so they know exactly what they need and who is expendable when the time comes to make that move.  For me, it's either add free agents or stand pat for Los Angeles this summer.
One More JAGR: Is Sullivan and his "system" on the hotseat? Perhaps Reirden?
A lot will depend on what winds up happening this summer.  If the Penguins are able to keep most of their current core together, there will be win-now expectations and a slow start would probably have Mike Sullivan on the hotseat.  But if they lose a couple of pieces and look more like a middle-of-the-pack team at best on paper, the expectations should be different and it would seemingly allow them to be more patient if they get off to a slower start next season.
That said, Sullivan wasn't hired by Pittsburgh's current management group which is always noteworthy while he has also been there seven years so there's a risk of the message growing stale.  Those have to be factors to consider as well.  I wouldn't be shocked to see Sullivan near the list of speculative coaches on the hotseat to start next season as a result but again, a lot will depend on what does (or doesn't) happen with their roster in the coming months.
As for Todd Reirden, assistants are always tough to predict.  Is it possible he'd go with Sullivan if they decided to clean house?  Sure.  Is it also possible that they'd view him as an ideal interim head coach if they want to make a change but have someone that has run an NHL bench before take over for the rest of the year?  That certainly is a potential option as well.  Until we see what Pittsburgh looks like next season and what the proper expectations should be though, it's hard to forecast the short-term future of their coaching staff.
Photo courtesy of USA Today Sports Images.
.