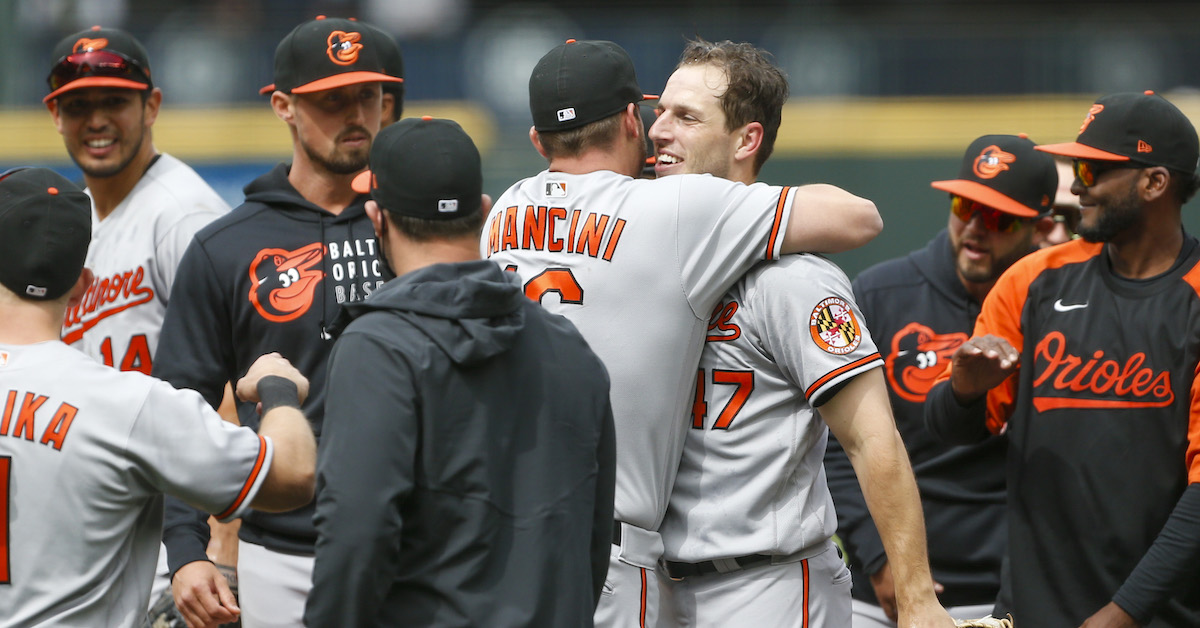 What is your favorite baseball memory? I asked this question to 10 major players in the league, and almost every time, I began the answer with a question of their own: "Should it be from my own career?" While everyone was happy to share one (or more) meaningful memories from their time in the major tournaments, it was basically magical moments from their days as fans and/or young amateurs that were the most memorable.
———
Jackie Bradley Jr.Boston Red Sox
"I have two. Being able to have all of my family in the All-Star Game with me in San Diego in 2016 is one. The other is taking my family with me in London England for the Red Sox and Yankees streak rivalry. [in 2019]. They were all with me for [2018] The World Championships too, so there's actually three: the All-Star Game, the World Championships, and being able to travel all the way to London, halfway around the world, to watch me play. In no particular order, those will be my favorite baseball memories."
———
Jack FlahertySt. Louis Cardinals
"Theatrical Derek Jeter Made in Auckland, home of Jorge Posada. The ball is down the line, knocked over, and he comes out of nowhere to flip it home. It's one of the things you watch and be like, "I don't know how it ended up there, or why it ended up there." The importance of this play and how awesome it was… I played a short game growing up, and while I wasn't a fan of the Yankees, I was a huge Jeter fan. He was a man I looked up to, and that play was totally instinctive, as if he had nothing to do with being there.
"In my career, perhaps my favorite memory to this point is winning [2019 NLDS] Game Five on the road in Atlanta. Being a part of that first half that brings men together [10 runs]…All I had to do was get out and not give up on it. I just needed to offer as many roles as possible."
———
Tree ManciniBaltimore Orioles
"My favorite memory of baseball would be when I was 11. AAU baseball was huge in Florida – I'm sure it still is – and my team won a championship 11 and under. That was in May of 2003. We kind of had a season more Difficult up until that point we didn't make it, but then we ended up winning the state championship. It was a really special time. There's nothing like winning like that when you're a kid. It was the biggest deal in the world for us. That was definitely the happiest thing His case is on a baseball field.
"Probably my favorite memory as a professional John Maines'no-hitter last year in Seattle. Just to be a part of that…and the way he did it too. This no-hitter is kind of in its own category, because it was between a non-hitter and a perfect game. The third strike dropped was the only primary runner, then he was instantly kicked out [attempting to steal]. It was very unique in terms of no hitters, and the most dominant performance I've seen at any level of professional baseball. It was amazing to witness it firsthand."
———
Lance McCullers Jr.Houston Astros
"My favorite memory as a player was probably the ALCS closing in 2017. I had already been in that series against the Yankees; I started Game 4 in New York. When you face the Yankees in the postseason, there is always a little extra fun because of their written history. So, shut it down like you did, and send us off to the second world championship – especially in [Hurricane] Harvey's year that led up to those moments–definitely stands out.
"My Yankees fans grew up in Tampa, Florida. They had spring training in Tampa, and I've probably done at least 50 spring training games in my life. Growing up, Robinson Kano He was my favorite player. Mike MusinaAnd the Andy PettitAnd the Roger Clemens…all these guys. So, I grew up a fan of the Yankees, and then quickly went on to face them in the ALCS and be able to get through it, throwing all those lone balls…that's probably my favorite moment as an individual."
———
Miles MicholasSt. Louis Cardinals
"Maybe there isn't one specific memory, but I was really enjoying summer baseball travel in Florida. You'd play your games from Jupiter all the way to Miami—there were tournaments this weekend—and you'd drive back and forth with a couple of your guys in the car and one's daddy." [behind the wheel]. There will be snacks after the game. School was over, and it was summer…and when I was 12 we did that Cooperstown course. It was like now, you travel around playing with the boys.
"My favorite major league moments… I almost had one last week. [Throwing a no-hitter] It will be elegant. But it will still go to books as a very fun game. and anytime my wife and children get a chance to come to the game and take to the field; This will always be fun. There are a lot of great memories from playing in Japan too, especially with the fans there. If you play baseball long enough, there will be a lot of great memories. Until I win the world championship, it will be difficult to pick a favorite."
———
Dylan MooreSeattle Mariners
"I grew up in Southern California and watched the Angels a lot, and their world championship run and victory in 2000 kind of cemented my love for the game. I went to a bunch of games that year. David Eckstein My leg, watching him play was short. As a kid, that was very touching, especially that world championship.
"As a player…last year we were in Houston early and came back to win. I hit the Grand Slam green light at the bottom of eighth. That must be the best baseball memory I have as an MLB player."
———
Sergio RomoSeattle Mariners
"My favorite baseball memory has nothing to do with me. I was lucky enough to make the All-Star team in 2013—the game was at Citi Field—and that was it." Mariano Riveralast year. In the eighth inning, he came off the farm to fall and no one was seated. They played "Enter the Sandman". It was one of the most amazing moments. She stuck with me, even though it had nothing to do with me.
"One does… Oh, my God. My big moment was obviously at the 2012 World Championships when I managed to win the last game. And it was a strike. That's really what we play for. Right? I was that kid in the backyard, playing a game Fishing with my dad, and I was up the hill with one of them to go in the world championships. I actually have to live that for real."
———
Stephen VogtAuckland athletics
You should have won the world championship [with Atlanta] last november. That final in Houston, storming the court and celebrating the world title I've been waiting for my whole life. Winning the World Championship is by far my favorite moment, as I will celebrate with my teammates, coach and family. all of that.
"I've been wanting to win the World Series ever since I've been able to speak. I grew up a baseball fan. I love the game. I love competition. I've always played the sport, I always want to win, and when you win the last game of the baseball season, be the one who lifts the trophy." …I mean, it's an experience I will never forget."
———
Adam WainwrightSt. Louis Cardinals
"I think I'll give you a moment since I was a kid. Worst to First of the Braves in 1991." Mr. Prem Slide into the safe in the home plate to beat the pirates. I was 10 years old. I grew up a Braves fan – a rabid fan of Braves, and a Del Murphy admirer. Watching that magical season…it kind of turned things around and created a dynasty there. I have this picture framed in my home office, signed by Mr. Prem. Francisco Cabrera hit base on the left, Barry Bonds come throwing, Mike Lavallier He catches it but can't reach it at home. Syd was like the slowest man in the entire league, with a giant big knee in the knee. This is my favorite baseball memory.
"Playing days… I mean, the thing I got asked the most — probably the biggest moment of my career — was the seventh game of the NLCS in 2006. Carlos Beltran Even bat, the bases are loaded at the bottom of the ninth. It's like everything you dreamed of as a kid, coming on the field at a moment like this."
———
Jesse WinkerSeattle Mariners
"Going to this place called Thornebrooke, which is a school I grew up in in Orlando. I used to go there with my parents and brothers, and we used to hit when I was really young. I was nine or ten, and it was the coolest moment because she was training my dad in throwing. And my brothers used to beat me, get married, run, and have fun.
"The best game of my life was last year in Cincinnati. I hit the house three times, my family was there. My daughter was there. She'll be 2 in May. This is a memory I will keep for the rest of my life. I don't think anyone has words for that after that. My siblings and dad went out, and we didn't really talk about running the house. I don't know if we knew what to say to each other about it. I guess we were all like, 'Holy crap.' This just happened. "