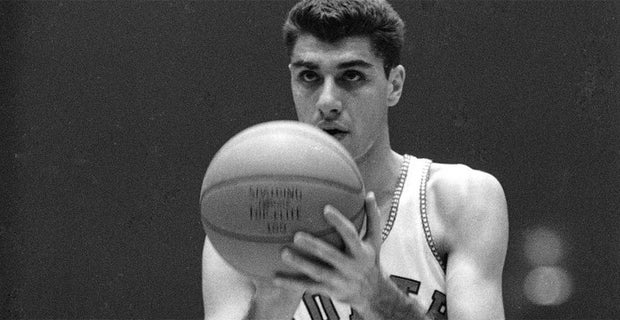 Lenny Rosenbluth took an indirect route to North Carolina. It's a story almost as remarkable as his unparalleled accomplishments.
The 1957 National Championship team captain and record holder for the most points ever by Tar Heel in three years passed away on Saturday at the age of 89.
No one has gone short of five of the 26.9-point per game as they averaged or scored in a single season of 28 per game, set in 1956-57, since then. And that was long before the three-point shot. That season, Rosenbluth scored 897 points, a Carolina record.
Rosenbluth helped lead the Heels past Michigan State in the 1957 semifinals in triple overtime and then Kansas in the final, also in triple overtime. Matches were played within 20 hours of each other, with no TV breaks and one minute between extra times. For the 1956-57 season, the Heels went 32-0.
Unlike his 1956-1957 teammates, who Carolina coach Frank McGuire and New York City scout Harry Gutkin plucked straight from the city's Catholic prep schools, Rosenbluth took a very different route from Chapel Hill.
While in high school at James Monroe in the Bronx, Rosenbluth worked summers at a hotel in New York's Catskill Mountains, a popular vacation destination in the city. Hotels and country clubs in the area kept basketball teams playing one or two nights a week as guest entertainment.
"It helped me, because I've played most of my games against older players who have graduated from college," Rosenbluth recalled in an interview earlier this year. "I had more experience playing against them than against high school players.
"I played against the Red Auerbach team." Boston Celtics coach Auerbach coached a summer team for the Catskills. "I played very well against them, and he invited me to come to Boston for training at the beginning of my final year."
So he exercised for two weeks, and Auerbach tried to recruit him. The National Basketball Association said it was against the rules to recruit a player out of high school. But Auerbach put Rosenbluth on his list of players to get to Madison Square Garden. The problem was that he didn't have a seat.
Then- St. John's McGuire coach saw him and invited him to sit in the coaches box. "So I sat with coach Maguire the whole time."
Gottkin asked Rosenbluth if he wanted to go to St. John's.
"I said no, I don't want to go to a school where I have to go up on the subway. I want to go to a school where there is a college in a small town."
So Rosenbluth almost went to North Carolina. Then state coach Everett Case discovered him when Rosenbluth was still at James Monroe and also played for the all-black team at the Carlton YMCA in Brooklyn. Case invited Rosenbluth to work with State when the team was playing at Madison Square Garden and then invited Rosenbluth and his father to see the campus.
Once he was in Rallye, Case insisted that Rosenbluth work with the team.
"I said 'Hey coach, I'm not in great shape, I don't have clothes to work with, and I don't have sneakers. "But Kiss gave him everything. The problem was that the new shoes had blisters." These kids were throwing the ball at my feet and over my head. You played as hard as you could… After two days of lameness and pain, he called me into his office and said, "Lenny, I know I offered you a scholarship, but you didn't sign anything. I only had one scholarship left. And he told me no He can afford to waste it on me. He thought I should try a lower level off the ball."
So Case passed on Rosenbluth, who would have earned a 1957 ACC and Helms Foundation MVP.
McGuire called Rosenbluth and said he had heard what had happened with the State Department. "I said, 'Coach, I'd like to play for you, but I don't want to play in the city. ' He said, 'Wait a minute. I'm leaving St. John. I'll probably go to North Carolina or Alabama.' I said, 'Coach, wherever you go, I'll go with you.'
Turns out Alabama wouldn't accept McGuire's assistant coach, Buck Freeman, who the 1957 players said had a drinking problem. Carolina will.
What prompted a Jewish player from New York to promise to go south with an Irish Catholic coach in 1953?
"I loved the way he trained. When I saw him in St. John, he never yelled at a player. If a player made mistakes and people in the park were yelling 'Get him out!'…the coach won't take him out for a minute or two when the crowd settles down, and he'll talk to him. Liked That. The other coaches were yelling at the players."
But Rosenbluth first went to Staunton Military Academy in Virginia in 1952-53 because he lacked two subjects to get into Carolina: math and language.
When he arrived at Chapel Hill, "I saw the campus, and it was amazing. It was something you could only dream of."
Ultimately, Rosenbluth was named ACC Player of the Year for 1957, ACC Male Athlete of the Year, Helms Hall of Fame Collegiate Player of the Year and MVP of the 1957 ACC Championship. He was later inducted into the Helms College Basketball Hall of Fame . In 2002, he was named on the 50th anniversary of the ACC men's basketball team as one of the 50 greatest players in ACC history.
After graduating from Carolina in 1957, Rosenbluth was recruited by the Philadelphia Warriors, with whom he played until 1959. He then taught at Wilson School, North Carolina, for $3,500 a year. "Miami came in search of teachers, and they were paid $5,200." He and his wife, Pat, decided they couldn't refuse it.
Rosenbluth taught American history, social studies, and basketball at Coral Gables High School in Miami for 15 years until the best-paying private schools came along. He and his wife retired from teaching after 30 years and started traveling.
But in 2009, Pat developed cancer. "She was taking chemo in Miami but she wasn't feeling well." Woody Durham called and suggested Pat go to the University of North Carolina Cancer Hospital. They tried to save her, but they couldn't. After her death, everyone would say, "Stay here."
So he did. In 2011 he met and married Diane, a retired realtor, and they became a regular fixture at the Carolinas basketball games.
"It's great to remember all these years after that," Rosenbluth said. "Not many teams are remembered, but even the young students do remember the name of our team and my teammates."