Teo and co-founders Adrian Osman (COO), Kerry Osborn (CXO), and Andrei Miulescu (CTO) intend to take their product out to the world. International expansion plans are a key part of its strategy: The startup raised $100 million last year, with Skip Capital founder Kim Jackson and her husband, Atlassian co-founder Scott Farquhar among its proponents, who saw the hospitality embrace of technology as a lucrative opportunity.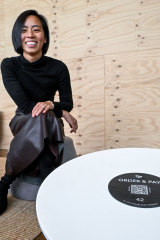 But Mr Yum is one of two pioneers in the micro-scanning market in Australia, the other being Sydney-based me&u, led by Dimmi founder Stefan Primotico. Customers will be forgiven for not knowing the difference between the two; Their table beacons are almost identical. Both were launched at very similar times, albeit one is located in Sydney and the other is in Melbourne.
Both are in a race to break the US and UK markets; I recently hired a new CEO (plus a new CFO and two business development leaders) allowing Premutico to focus on that.
The three markets involved – the US, UK and Australia – are "completely different," says Tew: the UK market is "very competitive" and "so mature in their thinking" that places take their time to carefully consider their options in a crowded market. Meanwhile, the US market is facing its own difficulties, with its unique customer service and tipping culture, which means QR code ordering and payment adoption is "closer to zero".
"They are almost like salespeople in a store. They are personally responsible for increasing customer sales, and getting as many tips as possible. Their work is rewarded really differently than in Australia," says Tew. But she notes that the US job market is narrower From our market. "We'll get there."
International growth isn't the only way Teo's team plans to spend its latest capital injection: Mr. Yum recently acquired CRM platform MyGuestList. The headcount will also be added to the Australian team (Mr Yum has 260 full-time employees globally).
Then there is the simple principle of being wise. "We don't have to burn everything… It's comforting to know that [we've] We got more capital in the bank than we had planned and what we needed."
'We are really different DNA'
When asked how Teo aims to outdo me&u, Teo said the competition has been positive.
"Mr. Yum, u and I have worked together to change the industry. Not in a deliberate way," she says. "We are helping each other educate the market, rather than just trying to take each other in. It is not a zero-sum game. "
But when it comes down to it, Teo differentiates the two not in product features, but in culture.
"I would say, behind the scenes, we're really different DNA from them. The things they prioritize at work are different from the things we prioritize. It's just a way of running companies that is really contradictory polarity."
Teo also notes that its counterpart, Premutico, benefited from being an established figure in the hospitality industry when he launched me&u.
"We were totally the underdogs, and I think we were underestimated a little bit," Teo says of when Yum was first released. "We didn't know anyone in the industry—hardly, maybe some people here and there, but there isn't any very meaningful background or black book to rely on."
For someone who claims not to cook well, Teo is some rather ambitious plans.
"Our number one priority is to be the best producer in the world and to continue to lead in innovation."
The Business Briefing newsletter offers top stories, exclusive coverage, and expert opinions. Sign up for it every morning of the week.