The relationship began with sponsorship, the kind of major financial commitment every NASCAR driver needs to keep running in the Cup Series, the top level of the largest form of racing in the country.
However, the record business deal that included St. Louis businessman David Steward and Bubba Wallace in 2018 was a dynamic that would create a force for change.
Steward founded and owns World Wide Technology, the largest black-owned company in the country. Wallace is the only black driver in the Trophy series.
Since their first meeting, some well-known and lesser-known events have helped transform NASCAR. Their relationship will reach a crossroads on Sunday when Wallace drives the Enjoy Illinois 300 at World Wide Technology Raceway, where Steward bought the naming rights a year after he joined Wallace.
"Dave wanted to do big things in NASCAR, he saw me with the Richard Petty team and he wanted me to be a part of it and he made a huge splash," Wallace said. "It's a relationship that has been fun and still is because I saw how passionate he was about diversity and inclusion and how he incorporated that into his workplace."
WWT no longer sponsors Wallace's team, but together and separately they have helped a movement, whether it's banning the Confederate flag by NASCAR, implementing diversity programming or embracing Pride Month on social media this week.
While Wallace's sponsorship was ongoing and a naming rights agreement was newly signed, in 2019 Steward was invited to be the keynote speaker at the Sports Diversity and Inclusion Symposium in Daytona Beach, Florida. And this is where his influence on NASCAR began to explode. .
"It was during the issue of removing the entire Confederate flag," Steward said this week. "We were closely involved with Bubba at the time. We were on the sidelines and had discussions with NASCAR about diversity and what is important to us — a welcoming environment for all the people in the races."
The sequence of events is not likely to be a coincidence.
After the sponsorship began, the WWT and the track entered into a proper naming agreement a year later. Steward topped the Diversity and Inclusion symposium that brought together officials from all sports in the same year. The Confederate flag was banned in 2020.
Then in September 2021, the WWTR was awarded a Cup race.
"I didn't get into our initial conversation thinking it would lead directly to a NASCAR Cup race," said track owner Curtis Francois. "There is no doubt that (Steward) was such a big part of the story of St. Louis."
After making these connections, Wallace was indulged – albeit not by doing it himself – in an incident in which a noose, tied to a noose, was found hanging on the garage door of his Talladega Superspeedway home in June 2020.
The matter was investigated as a possible hate crime, but was later ruled not to be because the garage pull had been in place for months. However, Wallace had trouble tying a rope to the gallows.
"It definitely gained fewer fans, which is a good thing," he said. "It's just a huge misunderstanding of a lot of people. We're on this far path that I don't want to help them understand. They can be who they want to be and that's fine. You choose how you want to be portrayed as a person. It's your destiny. I live my life in the best possible way, And if people don't like it, that's not my problem."
Behind the scenes, François and Steward, who is also part of the St. Louis Blues property group, were trying to set the stage for a coveted Cup Series race. It's something Wallace said he's heard from the steward since the beginning of their friendship.
Besides giving the keynote speech at the symposium, Steward also spent time talking to some of NASCAR's senior figures, including the France family who founded the organization. It was a turning point, said François when Steward offered help in any way.
"I was there to serve them in any way and to have a voice in the sport that was conspicuously absent," Steward said. "This is in every sport but especially in NASCAR. There are resources in the diverse community and future fan base that have yet to materialize."
David Steward II has also immersed himself in aspects of NASCAR with his company creating a venture to create movies, TV series and digital content based on the life of Wendell Scott, NASCAR's first black driver.
The presence of a businessman who is one of the world's 15 black billionaires, according to Forbes magazine, has become a powerful statement. Steward was the eldest in the lead in last year's announcement that the track named after his company would host a Cup race.
"David Steward has a tremendous passion for racing, philanthropy and driving," said Phelps. "When you pair that with his track record of driving change, he's a fantastic ambassador for welcoming new audiences to NASCAR."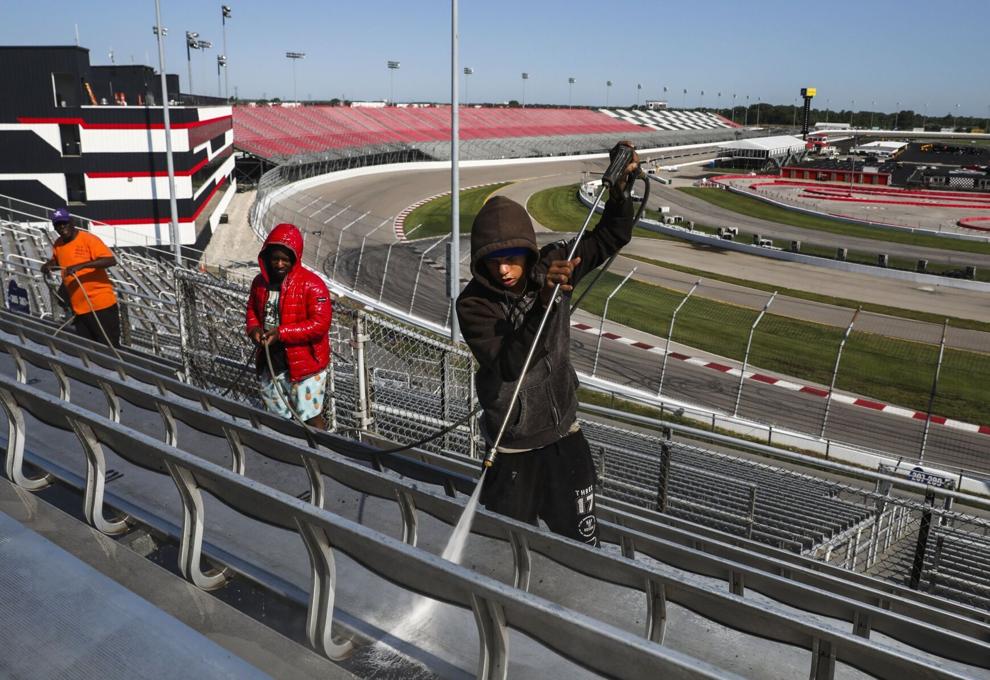 NASCAR took that to another level this week when it posted a celebration of Pride Month on Twitter. The letter received a mixture of endorsement and condemnation in the form of thousands of responses.
Wallace adopted the letter as another step in the right direction.
"Things are definitely going up, and that's the only way things can go," he said. "Seeing the potential of newcomers is really special. It's a small thing, but publishing NASCAR's Pride Month publication is something special. A few years ago, it wasn't even a discussion.
"It's so great to see these big strides that we feel more comfortable talking about these issues. What next? I don't know. Why not be proactive rather than reactive. We can handle it the right way."
Among the initiatives put in place by NASCAR are various programs for trainees, drivers and suppliers.
Wallace has long been impressed by Steward's support of STEM programs, which led to the creation of a charitable group that provides those opportunities to underserved youth in the St. Louis area.
The Raceway Gives Motorsports Academy is a division of that group, and Wallace will talk to kids about opportunities in motorsports on Friday.
"This is our relationship," Steward said. "It is important how he started and how we interacted with him. He understands the importance of conveying that."
.