20 available (2003)
squad leader, Matt BerningerHe was hesitant about this song from their second album, Sad Songs for Dirty Lovers; It's definitely a rare bad thing. "You made yourself available," he quipped to a woman, disgusted that he had fallen for her tricks. But there's excitement in that unrestrained bitterness, as a choked up bass guitar points toward Ohio's 2005 band breakthrough, the Alligator.
19 All Wine (2005)
Berninger's character has become increasingly likable over the years, although he hasn't touched this hymn to include glory since then. His explosive style—"I'm a great piece of ass"—is in keeping with the aerodynamic feel of the band, who find a sense of confidence in Aaron and Bryce Dessner's sparkling, tangled guitars and the exquisite percussion of Brian Difendorff's drums.
18 Filivi's Exile (2011)
From the soundtrack to the video game Portal 2, Exile Vilify explores the patriotic side in its finest detail. The sensuality of Aaron's momentary crunch and angst at the piano is echoed by Berninger, who pulls his paintbrush-like voice through lines like, "Have you given up? Does it feel like a trial?" The jarring and tuberous chords offset the subtle beauty of both.
17 You Did It Again, Virginia (2008)
during the national Imperial stagethere was no one better than solitude to sing a hymn in poetic but insightful imagery: "You're tall, you have long legs and your heart is full of wine," Berninger sings in this song from Boxer's 2007 album. It's a softly droning tapestry of acoustic guitar, steady drums and trumpets. Sad: "Everyone and I are just ice in a glass."
16 This Is The Last Time (2013)
A certain kind of devotional intimacy that National does so well has been minted on Boxer – with his sense of two lost souls hiding from the world – and resurrected here in You will find me trouble. Awe and calm Berninger vows to bring in "Tylenol and Beer" to please someone he can't recognize his worth; The guitar bit my thumb hot and the mist of the strings almost imparted its gentle touch. Let's ignore the needless grand coda.
15 Ada (2007)
Deceptively structured, Ada has no real center. Instead, the sense that things aren't right is shaped like Sovgan Stevens' fine piano, each blossoming as light as splashes of water on the surface of the water, offsetting rumbling guitars, and sad, melancholy, meek Berninger trumpets. A less fortunate supporting singer in her early years, Marla Hansen adds some sweet spotlight.
14 City Middle (2005)
Before he found his groove on stage, Berninger would sing, leaning over the microphone or crouching on the floor. City Middle embodies these heartbreaking songs. The rumbling calm swells into a turbulent reeling as Berninger makes slanting remarks about the struggle to come in contact with growing despair. "I have weird memories of peeing in the tub, I think," is the alligator classic.
13 Abel (2005)
The National has always threatened to make a rock album, but its recordings are increasingly leaning toward style. What an Abels album, a triumphant song about losing one's sanity, blazing with Berninger's cries, Devendorf's signature military drums and stubborn guitar frustratingly kicking the wall.
12 Sadness (2010)
By the time National achieved their mainstream breakthrough with High Violet, they were well aware that in some circles they were considered middle-class music to blend in. Berninger responded wistfully, personifying grief as an inescapable presence as well as a relief. "I don't want to get over you," he sings to the band's intense shivering. (If you want to wallow, They played it once for six hours straight To a piece by Icelandic artist Ragnar Kjartansson.)
11 A Fake Empire (2007)
Their song is great, thanks in part to Barack Obama's use of it in the campaign video. But despite its association with a presidential tour built on hope, Fake Empire was all about disappointment and the desire to leave the United States, presented in the fictional story A Pointless Escape. Based on a magnetic polyrhythm and with a frenetic raucous horn section inspired by Steve Reich, it also represents the growing influence of Bryce, who has been building a reputation as the The composer per se.
10 Mr. November (2005)
If Obama had the guts, he would have taken this track from his album Crocodile as his campaign soundtrack: "I'm Mr. November," Berninger shrieked as the band headed toward the skins. "I will not have sex with us!" It used to be a healing closest to their live performances, the faithful shout, "I'm the new blue blood," before they replaced it with the somewhat saccharine Vanderlyle Crybaby Geeks.
9 About Today (2004)
From the Cherry Tree EP, their first great song. The rolling acoustic guitar, the rhythmic heartbeat, and the floating strings barely move from a single thought, like someone holding their breath in fear. Fearing that he's watching his relationship crumble, Berninger leads us into the kind of honest pillow talk no couple wants: "Hey, are you awake? / Yes, I'm here / Well, can I ask you / About today?"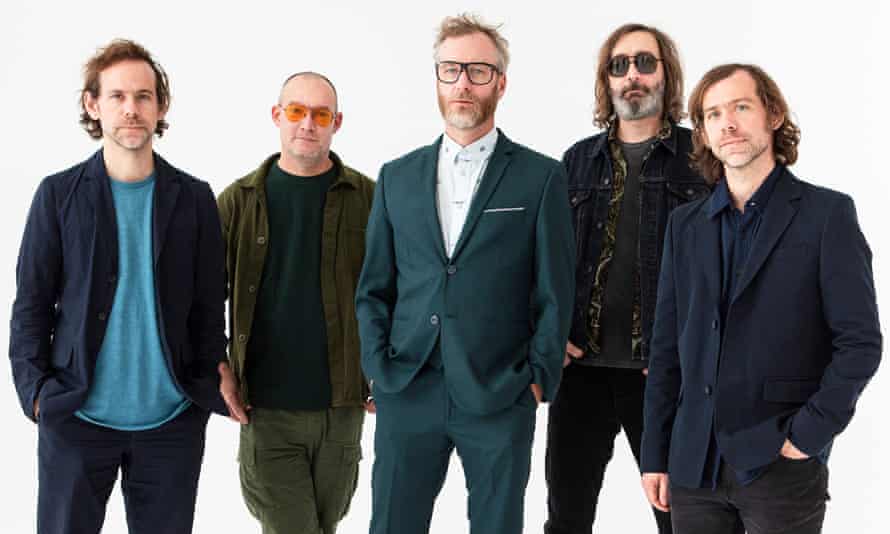 8 Slow Show (2007)
Songs about wanting to leave the party are ubiquitous, but no one has outdone Berninger for the perfect crystallization of social anxiety on the Slow Show: "I lean against the wall and the wall swerves away," he sighs as he longs to go home for the one calming down. Brain, like a drone waving through fast acoustic guitar and thick percussion.
7 Afraid Of Everyone (2010)
Resentment of the pseudo-empire of the Bush era sounded strangely out of fear of everyone's standards, a song written in response to the increasing polarization of American life. Here, old social anxiety becomes a real fear as Berninger fears he cannot protect his family; Stevens' fearsome harmonium and Bryce Dessner's forked guitar lightning embodied the threat.
6 Brainy (2007)
In Brainy, distant lovers are caught in the tug of war and the tides. Quite possibly the National's most provocative song, it was saved from being a single tune by the dynamic arrangement – synthetic guitar, resonance and racing drums – and Berninger gave a vague case to his appeal: "I've been up all night again / Boning up and reading the American dictionary" sings. "You'd never believe me, what I found."
5 Squalor Victoria (2007)
As with the Slow Show, being paralyzed from feeling let down by this totally hopeless song is that being "professional in my beloved white shirt" doesn't fool anyone. "That doesn't work, you, mate," murmurs Beringer at the end of the very short runtime (although direct, that's a reference to a storm of noise).
4 Karen (2005)
Eight albums in, and Berninger's lyrical metaphors have calcified a little (Woman's Name, Ballad of Alternatives, Mysterious Cocktail, Midwest Town). Dive back to a time when they were wonderfully random and often sinister: "It's a common fetish to the blob guy/to the ballerina at the coffee table, cock in hand," Berninger assures us of Karen's elusive piano brava.
3 Mistaken for Strangers (2007)
If the Imperial Fake Boxer replaces disappointing reality with fantasy, Mistaken for Strangers evokes the sense that you feel "another elegant, not-so-innocent fall into a not-so-great adult life." To feel like an adult less than a suit full of pennies. The arrangement is furious presses, Defendorf's drums swaying like white water.
2 Lemonworld (2010)
In High Violet, Berninger returned briefly to the non-series notes of the Alligator: "Put me on the table, put flowers in my mouth / We could say we invented a summer torture party," he sang in a monotonous voice. The song itself tortured the band, Who tried 80 copies Before landing on this turbulent heavy cleanser. Melancholy to shower.
1 Baby, We'll Be Alright (2005)
Soon after the National formed in New York City, they were sharing a rehearsal space with Interpol and watching early stroke performances. They knew they couldn't compete: "We didn't own anything made of leather, and Converse hit me," Berninger recalls in the oral history book Meet Me in the Bathroom. It could be said that it was this self-aware indifference that made her. They've taken the time to find their voice while working on unfulfilled jobs: Baby, We'll Be Alright is the heyday of those years, and from their catalog. It's bustling with moving parts, acoustic guitar banging like the frantic man in its midst desperately trying to find redemption in work, sauvignon and sex, and it comes out short. "I'm so sorry for the whole thing," pleads Berninger, offering a fallible masculinity that couldn't stand a pause, and so, unlike these peers, she never got tired of maintaining the facade.