IWas t about Gareth Bale. If it was about Wales, it would always be about Bill. He may have played only 22 minutes of football in the 10 weeks since his semi-final win over Austria; He may not be able to last anything like a full game; He may in fact become a former player in relation to Real Madrid; But he is still the player that makes Wales more than just a mediocre team.
There will be those who have personal preferences for John Charles, Ryan Giggs, Ivor Olchurch or Ian Rush, but what can be said now is that no one has ever investigated more Wales shirt. Not only has he inspired them to reach the semi-finals of the European Championship and qualify for the World Cup for the first time in 64 years. He achieved those feats by six years. The remains remain but this is a distinctly different aspect to Chris Coleman and Bill was key to both.
When Bale set up a free kick 11 minutes before the break, minds inevitably returned to the free kick he scored in the same goal against Austria in March. This time, on the other side of the field, Bell stood on a tee and assessed the conditions: 25 yards, light breeze left to right, heavy rain. He picked his club, looked at the goal and the wall standing in his way, went about his pre-shot routine, took his swing and then celebrated when Andrei Yarmolenko slammed the ball into his goalkeeper's goal – something that rarely happens in golf.
Bill is a player these days who plays in scraps. He doesn't control matches like he did before. He's 32, and while a dearth of regular football might lengthen his career – if he wanted to – it also meant a lack of basic match fitness. However, the game still somehow revolves around him, as if Bell's idea is enough to exert the force of gravity. Every now and then he'll pop a ball out of the air with a foot outstretched or discover an angle no one's seen to rejuvenate the idea.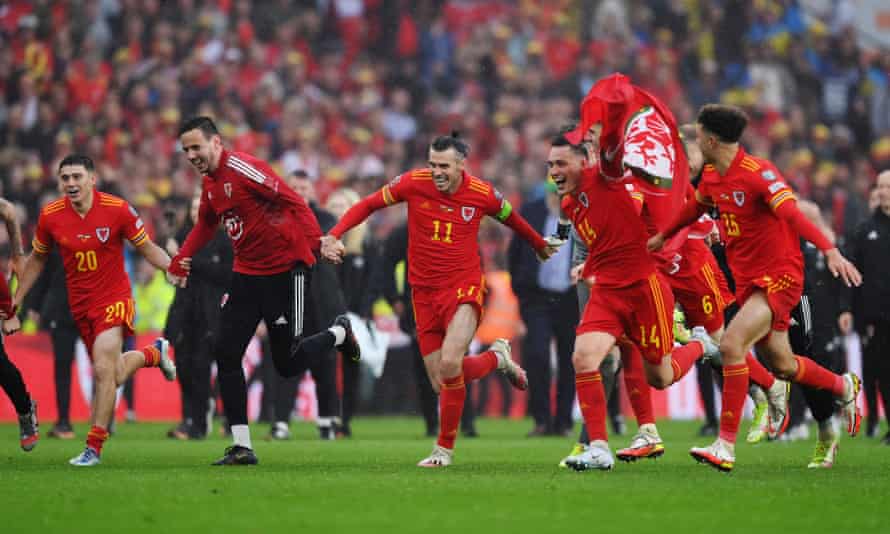 But it wasn't all about Bill. It was also about Wayne Hennessey's athletic performance and sure handling in the rain, about Nico Williams' diligence at left-back, and Joe Allen and Dan James tirelessly running through midfield and throwing dozens of bodies in the way of shots.
And it was about singing, too. What a credit Wales have in their choral tradition. Once things get tense, they can just flip the hymn book and start singing something exciting and melodic, inspiring to those on the court and distracting those outside. And that's probably part of what makes Welsh football so much fun at the moment, for both fans and players. There is a sense of interconnectedness between the new peaks being grouped together, which is very exciting.
Just as before defeating Austria in the Wales semi-final, David Ewan, grandson of one of the founders of Plaid Cymru, performed Yma o Hyd ("I'm Still Here"). His song is about the defiant spirit of Welsh identity and how it remains strong even after nearly half a thousand years of union with England. But Ukrainian fans, too, may have found an echo in her words: "We're still here, despite everyone and everything."
And there we face the appropriate embarrassment directly. How can the result of the football match compete with the news of the counter-attack in Severodonetsk? How can these things occupy the heads and hearts of the same people at the same time? Yet they do. Football is trivial and yet important – as an escape, yes, but also as something more, as a symbol, well, whatever you need.
Ukraine fans, seemingly determined to enjoy every second of being Ukrainians in public, raised flags high throughout Iwan's handover; Join the collective self-affirmation. That's definitely what fans want, what football is all about, rather than the respectable company bullshit for Camila Cabello's party that seems designed for those less of a spectator. The Ukrainian fans were remembered at the final whistle, by the Wales players who applauded for them, as well as by the Wales fans who took part in the thunderbolt: animated gestures that should not be forgotten.
Popular sentiment may have been behind Ukraine, but that shouldn't detract from Wales' delight. They have waited this long. They endured Joe Jordan's handball, Davy Cooper's penalty miss, Paul Bowden missed.
That those moments feel like obstacles were overcome rather than part of an inevitable and ongoing curse is a measure of what Bill and his team have achieved.